ISSN 2410-776X (Online),
ISSN 2410-7751 (Print)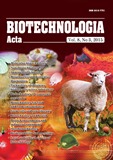 "Biotechnologia Acta" V. 8, No 3, 2015
https://doi.org/10.15407/biotech8.03.056
Р. 56-66, Bibliography 25, Russian
Universal Decimal Classification: 579.22:631.465
THE HALOPHILICITY OF FILAMENTOUS FUNGI ISOLATED FROM SALINE SOILS OF SOUTH CAUCASUS
Georgian Technical University, Tbilisi, Georgia
The work is devoted to the isolation, purification, determination of taxonomical characteristics and application in soil improvement and other biotechnological processes halophilic microscopic fungi strains isolated from saline soils of Eastern Georgia (middle part of South Caucasus), where their existence is maximally supposed. In all soilclimatic zones the dominate forms of spread fungi are genera Aspergillus, Penicillium and Fusarium, followed by Trichoderma and Mucor. Other genera are met less intensively. The genera Aspergillus is widely spread in chestnut soils and in chernozem, in green forest soils the genera Penicillium is prevailing. The salinity of soil, lake or any other objects from which the isolation of microscopic fungi is performed greatly determines halophilisity of isolated strains. Finally, the collection of halophilic microscopic fungi has been created accounting 96 isolates of extreme halophiles, halophiles and week halophiles.
Key words: halophiles, microscopic fungi, extremophiles, enzymes.
© Palladin Institute of Biochemistry of the National Academy of Sciences of Ukraine, 2015
References
1. Oren A. Bioenergetic Aspects of Holophilism. Microbiology and Molecular Biology Reviews. 1999, 63 (2), 334–348.
2. Rengpipat S., Lowe S., Zeikus J. Effect of Extreme Salt Concentration on the Physiology and Biochemistry of Halobacterioides acetoethilicus. J. Bacteriol. 1988, 3 (65), 3071.
3. Rothschild L. J., Giver L. J., White M. R., Mancinelli R. L. Metabolic activity of microorganisms in evaporates. J. Mycol.1994, V. 30, P. 431–438.
4. Fomin G. S., Fomin A. G. Soil. Monitoring on quality and ecologic safety in accordance with international standards. Moscow (VNII standard). 2001, P. 86.
5. Zviagintsev D. G. Methods of Soil Microbiology and Biochemistry. Moscow State University. 1980, P. 12–19.
6. Waksman S. A. Soil fungi and their activities. Soil. Sci. 1916, 2 (1), 103–105.
7. Litvinov M. A. Determinates of microscopic soil fungi. Leningrad. 1967, 280 p.
8. Malloch D. Moulds, Their Isolation, Cultivation, and Identification. University of Toronto Press. Toronto–Buffalo–London. 1981, 114 р.
9. Frank M. Dugan. The Identification of Fungi. The American Phytopathological Society. St. Paul, Minnesota U S A. 2006, 134 p.
10. Dudka N. A. The methods of experimental mycology. Kiеv.1982, 439 p. (In Russian).
11. Ventosa A., Nieto J. J., Oren A. Biology of Moderately Halophilic Aerobic Micro-organisms. MMBR. 1998, V. 62, P. 504–544.
12. Demirjian D. C., Moris-varas F., Cassidy C. S. Enzymes from extremophiles. Cur. Op. Chem. Biol. 2001, V. 5 (2), 144–151.
13. Rukhlyadea A. P., Goryacheva M. T. Determination of enzymes amylolytic activity. Enzymes and alcohol industry. 1960, V. 1, P. 9.
14. Dahlguist A. J. Determination of glucoamylase activity. Biochem. 1961, V. 80, P. 547.
15. Ghose T. K. Measurement of cellulase activities. Pure Appl. Chem. 1987, V. 59, P. 257–268.
16. Somogyi M. Determination of reducing sugars. J. Biol. Chem. 1952, V. 195, P. 199–228.
17. Nelson N. A. Protometric adaptation of the Somogyi method for the determination of glucose. J. Biol. Chem. 1944, P. 153–157.
18. Anson M. Z. The estimation of pepsin, trypsin, papain and cothepsin with emoglobin. Gen. Physiol. 1938, 22 (1), 79–83.
19. Kvesitadze E., Adeishvili E., Gomarteli M., Kvachadze L., Kvesitadze G. Cellulase and xylanase activity of fungi in a collection isolated from the southern Caucasus. Intern. Biodeter. Biodegr. 1999, V. 43, P. 189–196.
20. Lizama C., Monteoliva-S?nchez M., Su?rez-Garc?a A., Rosell?-Mora R., Aguilera M., Campos V., Ramos-Cormenzana A. Halorubrum tebenquichense sp. nov., a novel halophilic archaeon isolated from the Atacama Saltern, Chile. Int. J. Syst. Evol. Microbiol. 2002, V. 52, P. 149–155.
21. Hildebrant U., Janetta K., Ouziad F., Renne B., Nawrath K., Bothe H. Arbuscular micorrhizal colonization of halophytes in central European salt marshes. Micorrhiza. 2001, V. 10, P. 175–183.
http://dx.doi.org/10.1007/s005720000074
22. Razak A. A., Bachmann G., Ali Th. M., Farrag R. Activities of microflora in soils of upper and lower Egypt. African J. Mycol. Biotech. 1999, 7 (1), 1–19.
23. Kvesitadze G. I. Enzymes of Microorganisms Living under Extreme Conditions. Ed. W. Kretovich. Moskva: Nauka. 1990, 52 p. (In Russian).
24. Kvesitadze G. I., Kvachadze L. L., Kvesitadze E. G. Selection of thermophilic cellulase-producing micromycetes. Appl. Biochem. Microbiol. 1997, V. 33, P. 132–137.
25. Kvesitadze E. G., Nizharadze D. N., Buachidze T. Sh., Kvesitadze G. I. Thermostability and physical-chemical properties of endo- and exoglucanases of thermophilic microscopic fungi. Biochemistry. 1997, V. 62, P. 176–183.