ISSN 2410-776X (Online),
ISSN 2410-7751 (Print)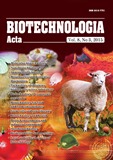 "Biotechnologia Acta" V. 8, No 3, 2015
https://doi.org/10.15407/biotech8.03.045
Р. 45-55, Bibliography 25, Ukrainian
Universal Decimal Classification: 557.161.2+612.017.1:616-097
SYNTHESIS OF 25-HYDROXYVITAMIN D3 CONJUGATE WITH KEYHOLE LIMPET HEMOCYANIN AND OBTAINING OF IMMUNE SERA
А. O. Mazanova, I. O. Shymanskyy, D. M. Petukhov, L. B. Drobot, M. M. Veliky, S. V. Komisarenko
Palladin Institute of Biochemistry of the National Academy of Sciences of Ukraine, Kyiv
The study was aimed at obtaining polyclonal antibodies that recognize 25-Hydroxyvitamin D3, for their further specifications and applications in immunochemical test systems of 25-Hydroxyvitamin D3, determination in blood serum. We used the methods of chemical synthesis of immunoconjugates (modified carbodiimide method using N´-ethyl carbodiimide), thin layer chromatography, gel filtration and indirect immunoenzyme analysis ELISA. The work describes the stages of the synthesis of 25-Hydroxyvitamin D3, immunoconjugate with keyhole limpet hemocyanin (KLH), which was used for receiving immune sera. As a result of mouse and rabbit immunization antisera were obtained and antibody titers against 25-Hydroxyvitamin D3, were tested by immunoenzyme assay. It was demonstrated that the titer of specific antibodies was higher in rabbits compared with mice. The resulting polyclonal antibodies can be used for the development of immunochemical test systems for screening studies of 25-Hydroxyvitamin D3, content in human blood serum as a marker of vitamin D3 availability.
Key words: 25-Hydroxyvitamin D3, haptens, immunoenzyme analysis, polyclonal antibodies.
© Palladin Institute of Biochemistry of the National Academy of Sciences of Ukraine, 2015
References
1. Cooper H. M., Paterson Y. Production of polyclonal antisera. Curr. Protoc. Cell Biol. 2001, 2 (2.4), 1–10.
doi: 10.1002/0471142735.im0204s13.
2. Zegers N. D. Synthetic peptides for antibody production. Thesis Erasmus Universiteit Rotterdam. 1995, 248 p.
3. Dobnig H. A review of the health consequences of the vitamin D deficiency pandemic. J. Neurol. Sci. 2011, 311 (1–2), 15–18.
doi: 10.1016/j.jns.2011.08.046.
4. Wacker M., Holick M. F. Vitamin D — effects on skeletal and extraskeletal health and the need for supplementation. Nutrients. 2013, 5 (1), 111–148.
doi: 10.3390/nu5010111.
5. Wang Y., Zhu J., DeLuca H. F. Where is the vitamin D receptor? Arch. Biochem. Biophys. 2012, 523 (1), 123–133.
doi: 10.1016/j.abb.2012.04.001.
6. Haussler M. R., Jurutka P. W., Mizwicki M., Norman A. W. Vitamin D receptor (VDR)-mediated actions of 1?, 25(OH)2vitamin D3: genomic and non-genomic mechanisms. Best Pract. Res. Clin. Endocrinol. Metab. 2011, 25(4), 543–559.
doi: 10.1016/j.beem.2011.05.010.
7. Takeyama K., Kato S. The vitamin D3 1 alphahydroxylase gene and its regulation by active vitamin D3. Biosci. Biotechnol. Biochem. 2011, 75 (2), 208–213.
http://dx.doi.org/10.1271/bbb.100684
8. White J. H. Regulation of intracrine production of 1,25-dihydroxyvitamin D and its role in innate immune defense against infection. Arch. Biochem. Biophys. 2012, 523 (1), 58–63.
doi: 10.1016/j.abb.2011.11.006.
9. Guillot X., Semerano L., Saidenberg-Kermanach N., Falgarone G., Boissier M. C. Vitamin D and inflammation. Joint Bone Spine. 2010, 77 (6), 552–557.
doi: 10.1016/j.jbspin.2010.09.018.
10. Ananthakrishnan A. N., Khalili H., Higuchi L. M., Bao Y., Korzenik J. R. Giovannuc-ci E. L., Richter J. M., Fuchs C. S., Chan A. T. Higher predicted vitamin D status is associated with reduced risk of Crohn's disease. Gastroenterology. 2012, 142 (3), 482–489.
doi: 10.1053/j.gastro.2011.11.040.
11. Huber E., Becker J., Kraus W., Kyriatsoulis A., Vogel R., Horn N., Antibodies against 25-hydroxyvitamin D. European Patent 1 931 711 B1, April 8, 2009.
12. Stokes A. N., Williams B. L., French S. S. An improved competitive inhibition enzymatic immunoassay method for tetrodotoxin quantification. Biol. Proced. Online. 2012, 14 (3), 1–5. doi: 10.1186/1480-9222-14-3.
13. Prakasha K. C., Raghavendra G. M., Horisa R., Chang Gowda D. Design, synthesis and antimicrobial screening of amino acid conjugated 2-amino 4-aryltiazole derivatives. Int. J. Pharm. Pharm. Sci. 2011, 3 (3), 120–125.
14. Chun L., Xiaoping Y., Guangrong H., Hong W. Preparation and characterization of antigenic properties of gramicidin A- keyhole limpet hemocyanin and gramicidin A- ovalbumin conjugates. Afr. J. Biotechnol. 2009, 8 (24), 7051–7058.
15. Huisman H., Wynveen P., Setter P. W. Studies of the immune response and preparation of antibodies against a large panel of conjugates neurotransmitters and biogenic amines: specific polyclonal antibody response and tolerance. J. Neurochem. 2010, 112 (3), 829–841.
doi: 10.1111/j.1471-4159.2009.06492.x.
16. Maleimidyl activated Protein Carriers Available at: http://www.interchim.fr/ft/8/86695A.pdf (accessed 15 February 2013)
http://dx.doi.org/10.5582/bst.2012.v6.2.52
17. Hu K., Huang X., Jiang Y., Qiu J., Fang W., Yang X. Influence of hapten density on immunogenicity for anti-ciprofloxacin antibody production in mice. BioSci. Trends. 2012, 6 (2), 52–56.
18. Su?rez A. M., Rodri?guez J. M., Hern?ndez P. E., Azcona-Olivera J. I. Generation of polyclonal antibodies against nisin: Immunization strategies and immunoassay development. Appl. Environ. Microbiol. 1996, 62 (6), 2117–2121.
19. Zhao C., Liu W., Ling H., Lu S., Zhang Y., Liu J., Xi R. Preparation of Antiatifloxacin Antibody and Development of an Indirect Competitive Enzyme-Linked Immunosorbent Assay for the Detection of Gatifloxacin Residue in Milk. J. Agric. Food Chem. 2007, 55 (17), 6879–6884.
http://dx.doi.org/10.1021/jf070978g
20. Hong J. Y., Kim J.-H., Choi M. J. Hapten synthesis and Influence of coating ligands on Enzyme-linked Immunoreaction of DDT. Bull. Korean Chem. Soc. 2002, 23 (10), 1413–1419.
http://dx.doi.org/10.5012/bkcs.2002.23.10.1413
21. Zhou Y., Li Y. S., Pan F. G., Liu Z. S., Wangc Z. Identification of tetrodotoxin antigens and a monoclonal antibody. Food Chem. 2009, V. 112, P. 582–586. doi:10.1016/j.foodchem.2008.06.022.
22. Pravetoni M., Naour M. L., Harmon T. M., Tucker A. M., Portoghese P. S., Pentel P. R. An oxycodone conjugate vaccine elicits drug-specific antibodies that reduce oxycodone distribution to brain and hot-Plate analgesia. J. Pharmacol. Exp.Tther. 2012, 341 (1), 225–232.
doi: 10.1124/jpet.111.189506.
23. Jiang Y., Huang X., Hu K., Yu W., Yang X., Lv L. Production and characterization of monoclonal antibodies against small hapten-ciprofloxacin. Afr. J. Biotechnol. 2011, 10 (65), 14342–14347.
doi: 10.5897/AJB11.1546.
24. Harlow E., Lane D. Antibodies. A laboratory manual. Cold Spring Harbor Laboratory. 1988, 726 p.
25. Li Z., Song S., Xu L., Kuang H., Guo S., Xu C. Development of an Ultrasensitive Immunoassay for Detecting Tartrazine. Sensors. 2013, 13 (7), 8155–8169.
doi: 10.3390/s130708155.