Details

Hits: 37
ISSN 1995-5537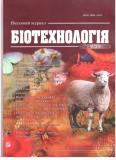 "Biotechnology" journal Vol. 2, No. 1, 2009
Р. 117-123, Bibliography 11, Ukrainian.
Universal Decimal classification 541.18.045+577.15
α-AMILASE IMMOBILIZATION ON CELLULOSE MEMBRANES
MODIFIED BY CHITOSANE AND СIBACRON BLUE F3G-A

National University of Kiev Mohyla-Academy, Membrane Research Center, Kуiv
Ukrainian research institute of alcohol and biotechnology of foods, Kyiv
A method of the affinity membranes producing based on chitosane covalent bonding with cellulose membranes surface and Cibacron Blue F3G-A dye fixing as affine ligand has been developed. Transport and surface properties of the modified membranes have been studied. Optimum α-amilase immobilization is found to be the following: pH and solution concentration are 3.5 and 1 mg/sm3 respectively. Starch conversion of unregenerated membranes with immobilized enzyme was up to 84%.
Key words: enzyme immobilization, α-amylase, affine membranes.
© Palladin Institute of Biochemistry of National Academy of Sciences of Ukraine, 2008
Details

Hits: 29
ISSN 1995-5537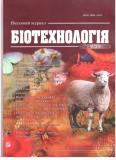 "Biotechnology" journal Vol. 2, No. 1, 2009
Р. 9-23, Bibliography 87, Ukrainian.
Universal Decimal classification 577.152.34
GLUCOAMYLASE OF MICROORGANISMS. BIOSYNTHESIS, PROPERTIES, MECHANISM OF ACTION AND APPLICATION
N. V. Borzova, O. V. Gudzenko, L. D. Varbanets
Institute of Microbiology and Virology of National Academy of Sciences of Ukraine, Kyiv
Data on regular position of glucoamylase in modern classification are given in the review. Current views on regulation of microbial glucoamylases biosynthesis are stated, the issues concerning structure and functions of individual domains of enzyme molecule, their interrelation and role in catalysis are discussed.
Physical and chemical properties of fungal glucoamylases are detailed.Possibility of effective immobilization of enzymes on various carriers with the purpose of their using in various technological processes was shown.
Key words: glucoamylase, biosynthesis, active centre structure, mechanism of action, enzyme properties, glucoamylase immobilization, practical use.
© Palladin Institute of Biochemistry of National Academy of Sciences of Ukraine, 2008