ISSN 2410-7751 (Print)
ISSN 2410-776X (Online)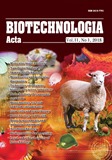 "Biotechnologia Acta" V. 11, No 1, 2018
Р. 70-75, Bibliography 10, English
Universal Decimal Classification: 616.096.578.828
https://doi.org/10.15407/biotech11.01.070
COMPARATIVE STUDY OF HIV-POSITIVE HUMAN SERA WITH THIRD- AND FOURTH-GENERATION ENZYME IMMUNOASSAY TEST SYSTEMS
T. Y. Trokhymchuk 1, L. A. Ganova 2, N. Ya. Spivak 2
1 PJSC "SPC "Diaproph-Med", Kyiv
2 Zabolotny Institute of Microbiology and Virology of the National Academy of Sciences of Ukraine, Kyiv
The purpose of the work was to study the ability of test systems DIA-HIV 1/2 and DIA-HIV-Ag/Ab produced by PJSC "SPC "Diaproph-Med" to detect HIV infection. Reference blood serum of HIV-positive patients was tested using immunoassay analysis. It was shown that early detection of HIV infection is more effective using test kits of the fourth generation, which should be used for primary screening for HIV, and third-generation test systems should be used to confirm the positive results of primary analysis.
Key words: ELISA, early diagnosis of HIV, enzyme immunoassay test systems.
© Palladin Institute of Biochemistry of National Academy of Sciences of Ukraine, 2018
References
1. HIV infection in Ukraine. Newsletter. Kyiv: Ministry of Health of Ukraine. 2016, 46, 7–14. (In Ukrainian).
2. Laboratory testing for the diagnosis of HIV infection. CDC. National Center for HIV/AIDS. 2013, 234.
3. Fiebig E. W., Wright D. J., Rawal B. D. Dynamics of HIV viremia and antibody seroconversion in plasma donors: implications for diagnosis and staging of primary HIV infection. AIDS. 2003. 17 (13), 1871?1879. https://doi.org/10.1097/01
4. Kislih O. M. Application of combined antigenantibody tests for immuno-enzymatic diagnosis of HIV infection. Lab. dіagnostika. 2003. N 4, P. 37–42. (In Ukrainian).
5. Pokrovsky V. V., Ermak T. Y., Beljaeva V. V., Yurin O. G. HIV-infection: clinics, diagnostics and treatments. Мoskva: Geotar Medic. 2000, 489.
6. National Program of the Ministry of Health of Ukraine. Order dated December 21, 2010 No 1141. (In Ukrainian).
7. Kotova N. V., Babіj N. O., Andrіanova І. V., Lyul'chuk M. G., Ringach N. O. Assessment of the current state of early diagnosis of HIV in children born to HIV-positive mothers. Kyiv: PC «Folіant», 2013,60. (In Ukrainian).
8. Lapach S. N., Gubenko A. E., Babich P. N. Statistical methods in biomedical research using Excel. Kyiv: Morion. 2002, 407. (In Russian).
9. Hemelaar J., Gouws E., Ghys P. D., Osmanov S. WHO-UNAIDS Network for HIV Isolation and Characterisation: Global trends in molecular epidemiology of HIV-1 during 2000– 2007. AIDS. 2011 (25), 679. doi: 10.1097/QAD. 0b013e328342ff93.
10. Zhang M., Foley B., Schultz A. K., Macke J. P., Bulla I., Stanke M., Morgenstern B., Korber B., Leitner T. The role of recombination in the emergence of a complex and dynamic HIV epidemic. Retrovirology. 2010, 7, 25. https://doi.org/10.1186/1742-4690-7-25